Greeting from the Fairy Domain. Today there are some new poems…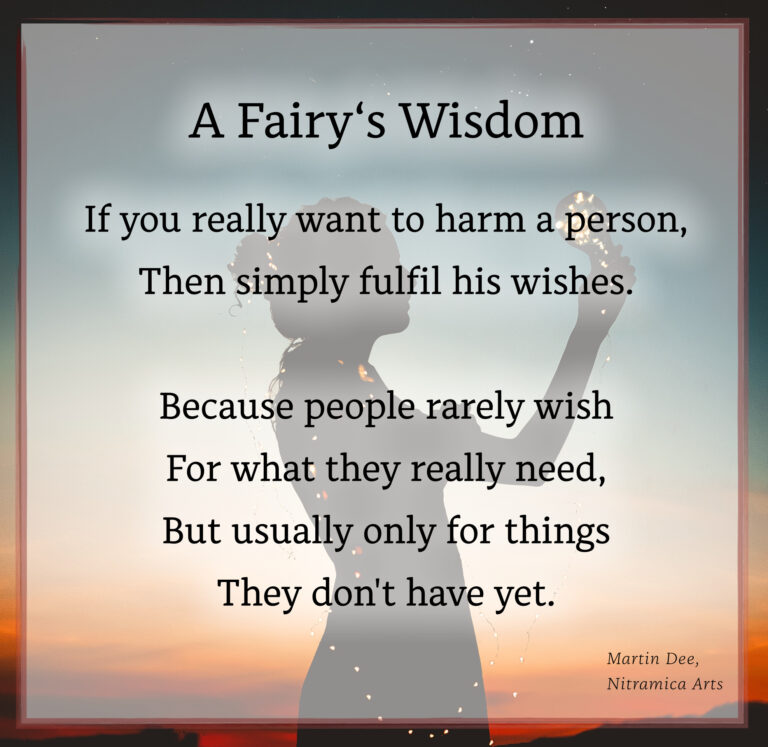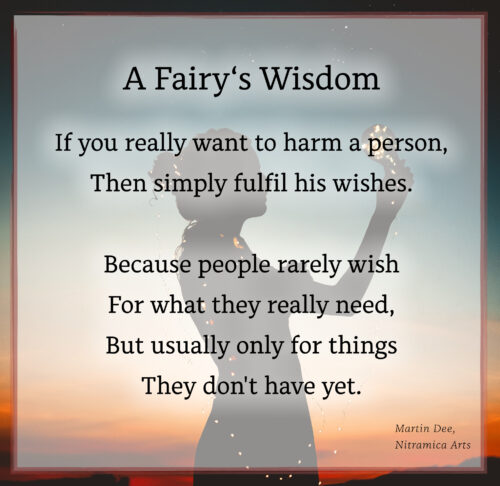 A Fairy's Wisdom
If you really want to harm a person,
Then simply fulfil his wishes.
Becauce people rarely wish
For what they really need,
But usually only for things
They don't have yet.
* * *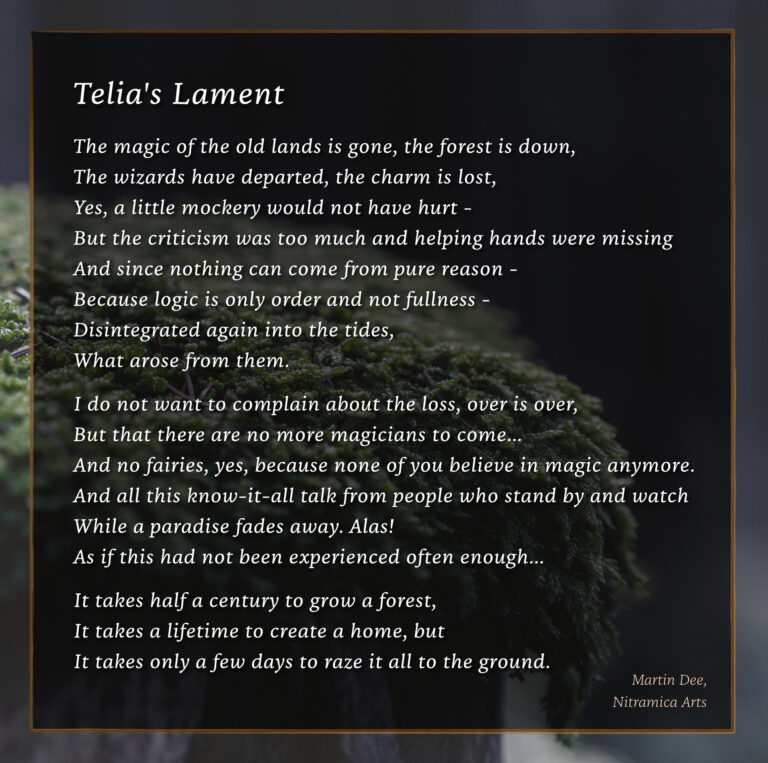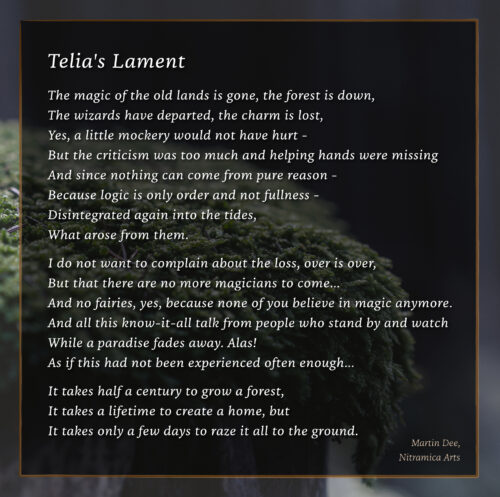 Telia's Lament
The magic of the old lands is gone, the forest is down,
The wizards have departed, the charm is lost,
Yes, a little mockery would not have hurt –
But the criticism was too much and helping hands were missing
And since nothing can come from pure reason –
Because logic is only order and not fullness –
Disintegrated again into the tides,
What arose from them.
I do not want to complain about the loss, over is over,
But that there are no more magicians to come…
And no fairies, yes, because none of you believe in magic anymore.
And all this know-it-all talk from people who stand by and watch
While a paradise fades away. Alas!
As if this had not been experienced often enough…
It takes half a century to grow a forest,
It takes a lifetime to create a home, but
It takes only a few days to raze it all to the ground.
* * *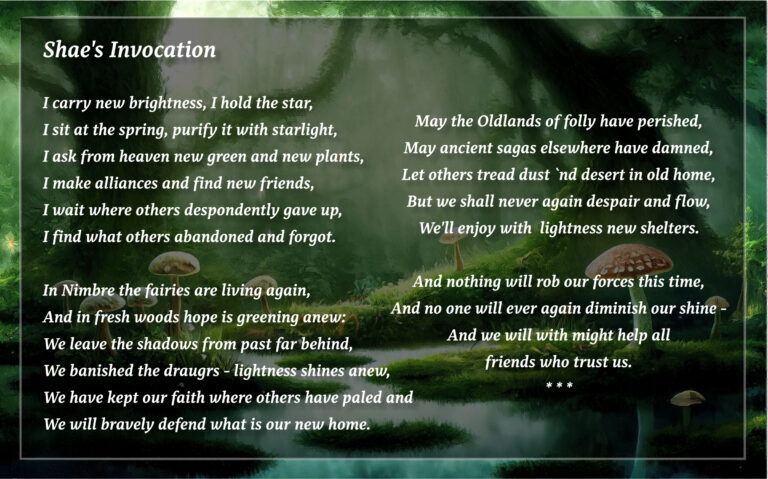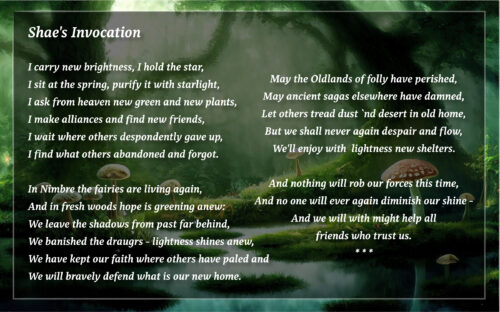 Shae's Invocation
I carry new brightness, I hold the star,
I sit at the spring, purify it with starlight,
I ask from heaven new green and new plants,
I make alliances and find new friends,
I wait where others despondently gave up,
I find what others abandoned and forgot.
In Nimbre the fairies are living again,
And in fresh woods hope is greening anew:
We leave the shadows from past far behind,
We banished the draugrs – lightness shines anew,
We have kept our faith where others have paled and
We will bravely defend what is our new home.
May the Oldlands of folly have perished,
May ancient sagas elsewhere have damned,
Let others tread dust 'nd desert in old home,
But we shall never again despair and flow,
We'll enjoy with lightness new shelters.
And nothing will rob our forces this time,
And no one will ever again diminish our shine –
And we will with might help all
friends who trust us.
* * *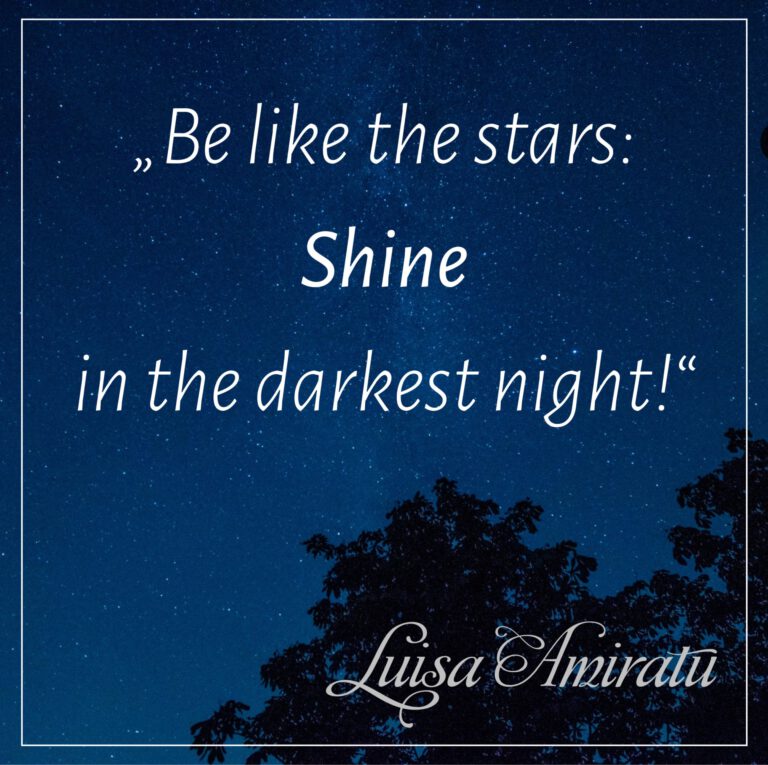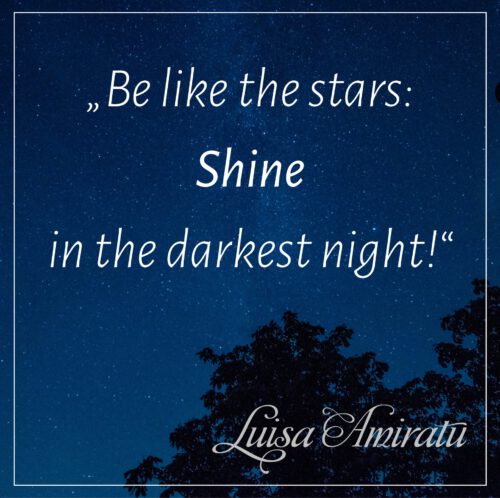 Starlight
Be like the stars:
SHINE
in the darkest night!
– Luisa Amiratu
* * *